Collax Groupware Suite
Kopano Groupware for Collax
Kopano Groupware for Collax
Topics such as BYOD, file sharing and web meetings are not just buzzwords, but also increasingly dominate the everyday work of small and medium-sized companies. A company-wide available IT platform is essential for business communication. The Collax Groupware Suite facilitates teamwork through file sharing, web meetings, mailbox sharing, shared contact management and extended calendar functions. Thanks to the integrated mail server, the Collax Groupware Suite not only offers modern groupware functions, but also maximum e-mail security. The Collax e-mail archive enables revision-proof archiving of e-mails and electronic invoices (e-invoicing).
Special functions
Groupware on the desktop, in the browser or mobile
The Groupware Suite provides all the familiar email, advanced calendar and contacts features you need to be productive. The browser-based interface gives you an overview of what's important to you, whether it's incoming email, your weekly schedule, or the contact details of the person you want to call.
Web-Meetings
Meet online in an incomparable video and audio quality, directly via the groupware WebApp. Use the presentation mode to increase your team's productivity or simply share your screen so all participants look at the same document.
See who's online and start an online meeting or chat with just one click.
Invite external participants to your web meeting via e-mail or directly from the meeting request. All you need is a browser to join your meeting.
File Sharing – Stay in control
It is easy to share files and folders using your existing storage tools like Collax Net Storage or Owncloud. With this feature you can browse your folders and keep control of who has access to shared data without switching to another application.
And if someone shares a file or folder with you, you can work on it directly from the WebApp interface.
Mobile access
With smooth synchronization, you always have up-to-date e-mails, tasks and contacts on your smartphone or tablet. Not only can you synchronize your company's address book, you can also schedule meetings, view your emails or attachments, and reply from your phone. No additional applications required!
The Z-Push functionality is also Microsoft Outlook ™ compatible. Outlook 2013 and Outlook 2016 can therefore also be configured to synchronize data via Z-Push.
Special server system
Efficient administration and monitoring, always up-to-date software Collax's own browser-based user interface allows secure administration of the server from any location - locally and remotely. Comprehensive monitoring with e-mail notification simplifies the administrator's work. The easy-to-use update management updates the server software quickly and easily.
Storage and Data Protection
The file server supports all common protocols. The integrated backup/restore allows comprehensive backup plans and supports multiple storage media up to tape:
Central user administration, across multiple locations
The integrated directory service makes it easy to manage users, even across multiple locations. Intelligent tools make ActiveDirectory connectivity a breeze.
Enterprise E-Mail-Server
The Zarafa-based brick level Backup / Restore can be used to easily restore individual e-mails or mailboxes.
Secure communication, secure working
Anti-spam filtering, greylisting, reputation filtering and a tar pit are implemented in this solution for secure communication. Basic antivirus protection is provided by ClamAV, which can be supplemented by Kaspersky or Avira solutions.
Fax- and SMS-Server
A fax, instant messaging and SMS server round off the functionalities of the Collax Groupware Suite.
Recovery of individual e-mails
With Zarafa-based backup and restore, individual e-mails, mailboxes and appointments can be conveniently backed up and restored.
Two editions available
Collax offers two editions of the Collax Groupware Suite tailored to the respective requirements of the customers:
Collax Groupware Suite Basic
Collax Groupware Suite Pro
Collax Groupware Suite as Appliance
The Collax Groupware Suite is also available as an appliance (hardware with pre-installed software). You can obtain suitable offers from our distributors and system partners.
Further information:
Datasheet: Collax Groupware Suite
309 kB
Datasheet: Collax Archive for E-Mails and E-Invoicing
354 kB
YOUR ADVANTAGES
Networked working in a team

Extended calendar function

Web meetings in highest video quality

BYOD - reliable integration of mobile devices

ActiveSync and Outlook

Enterprise email server

Secure file sharing

Integrated mail server

Spam and virus protection

Audit-proof archive for e-mail and e-invoicing

Location-independent working
Buy now
Live Demo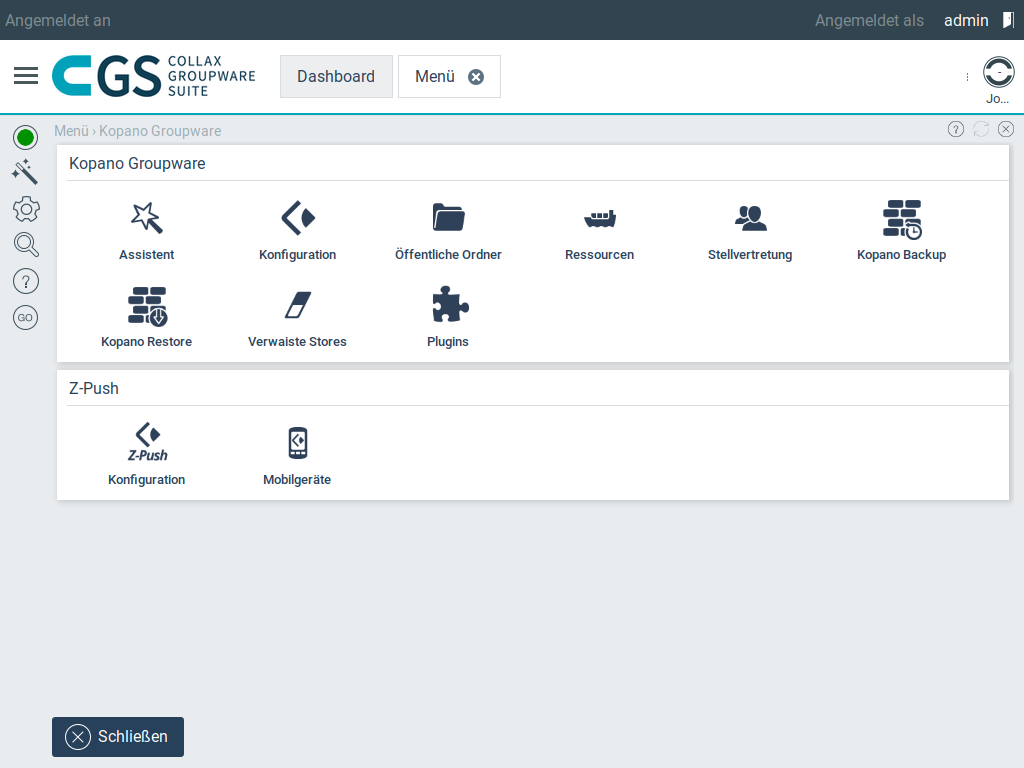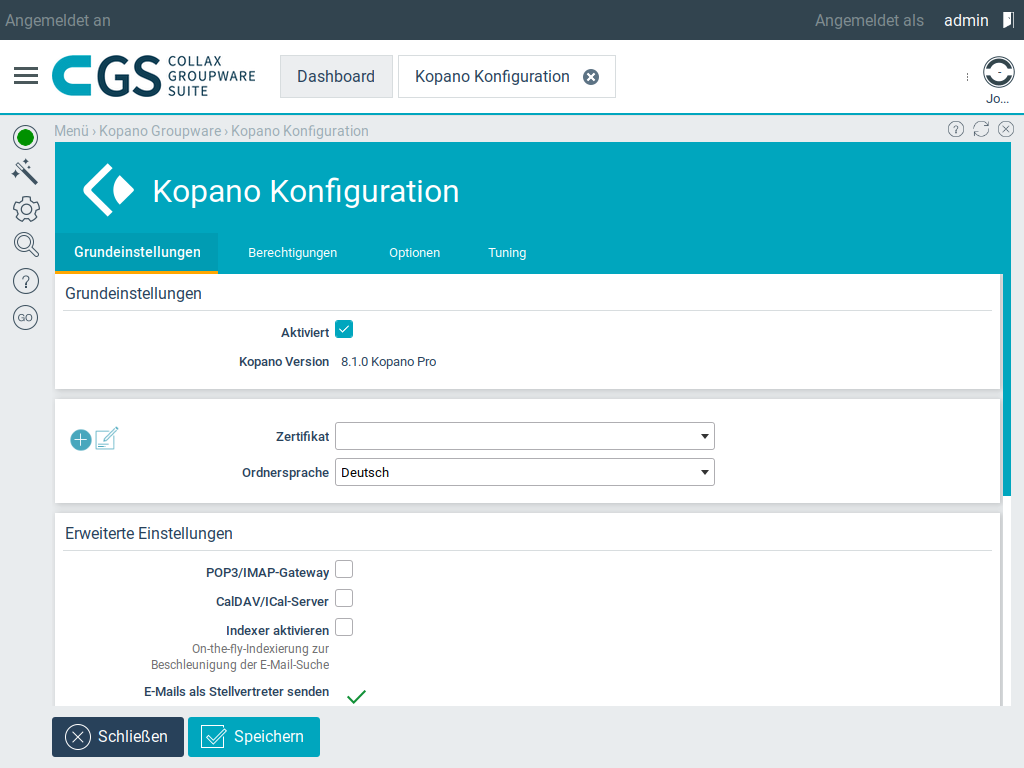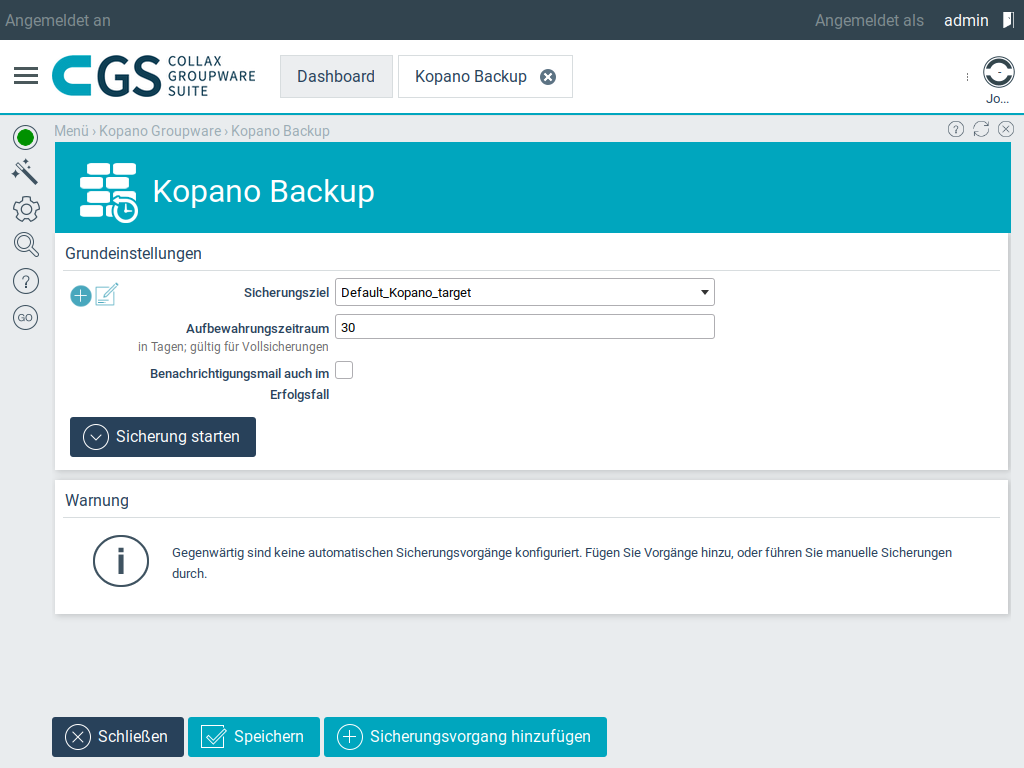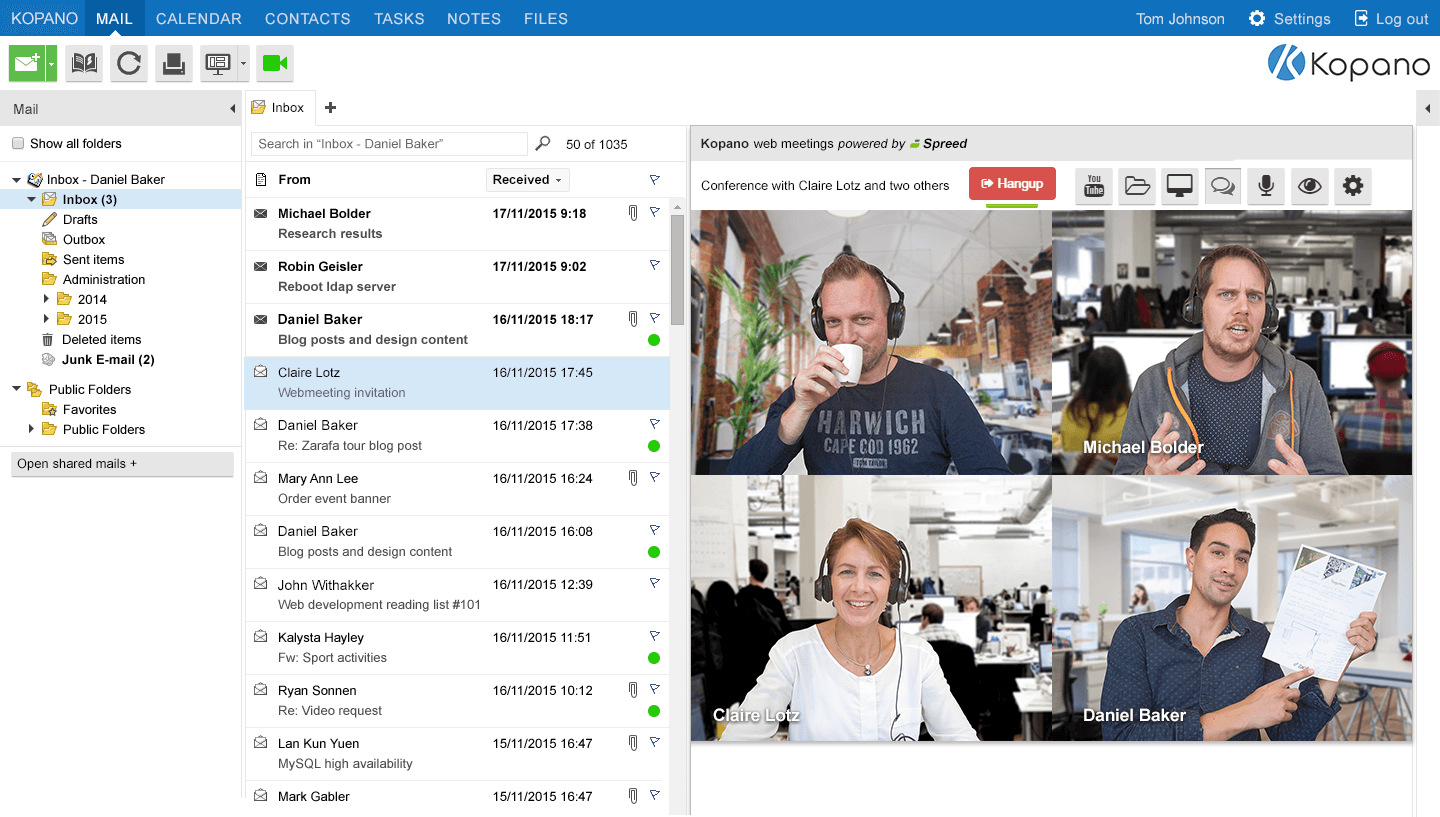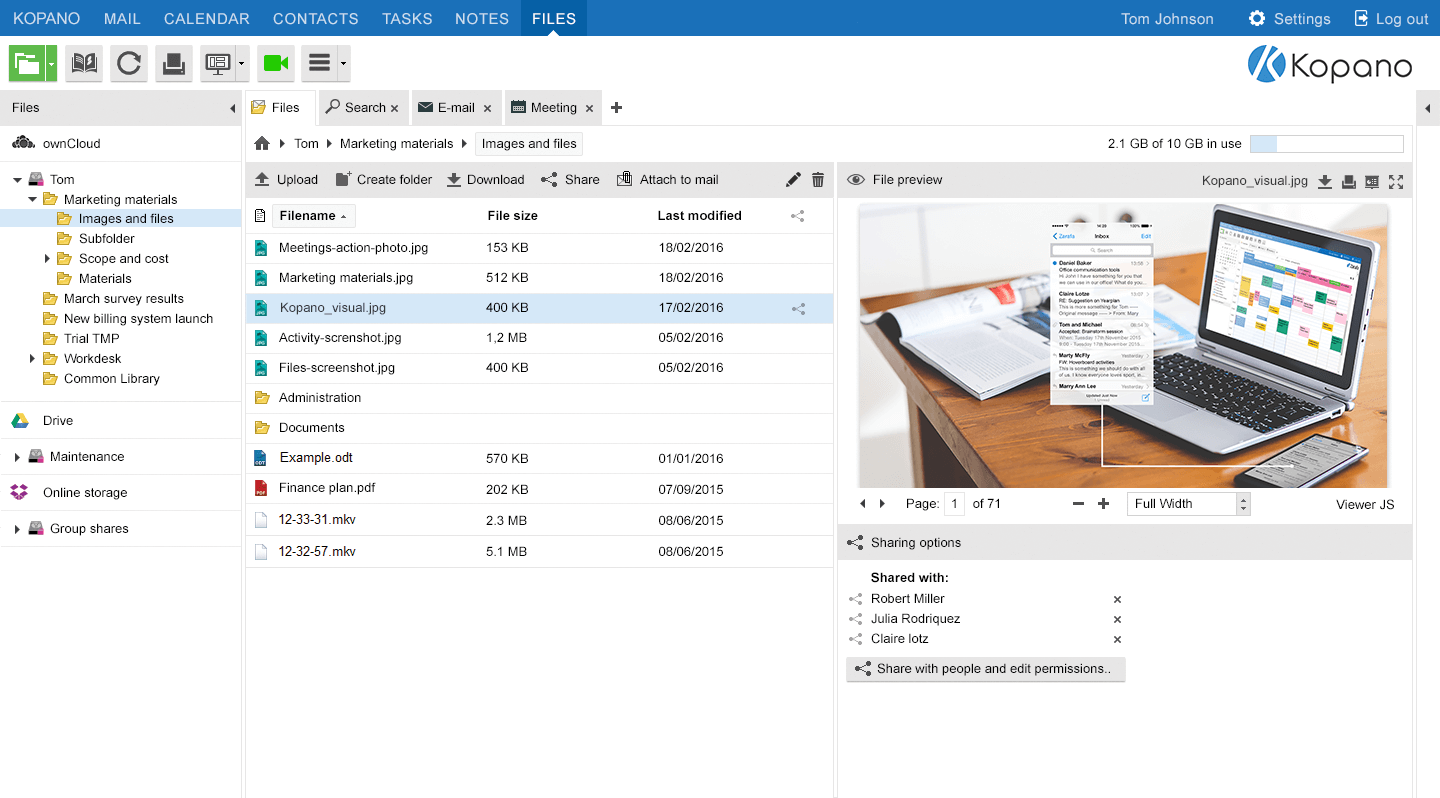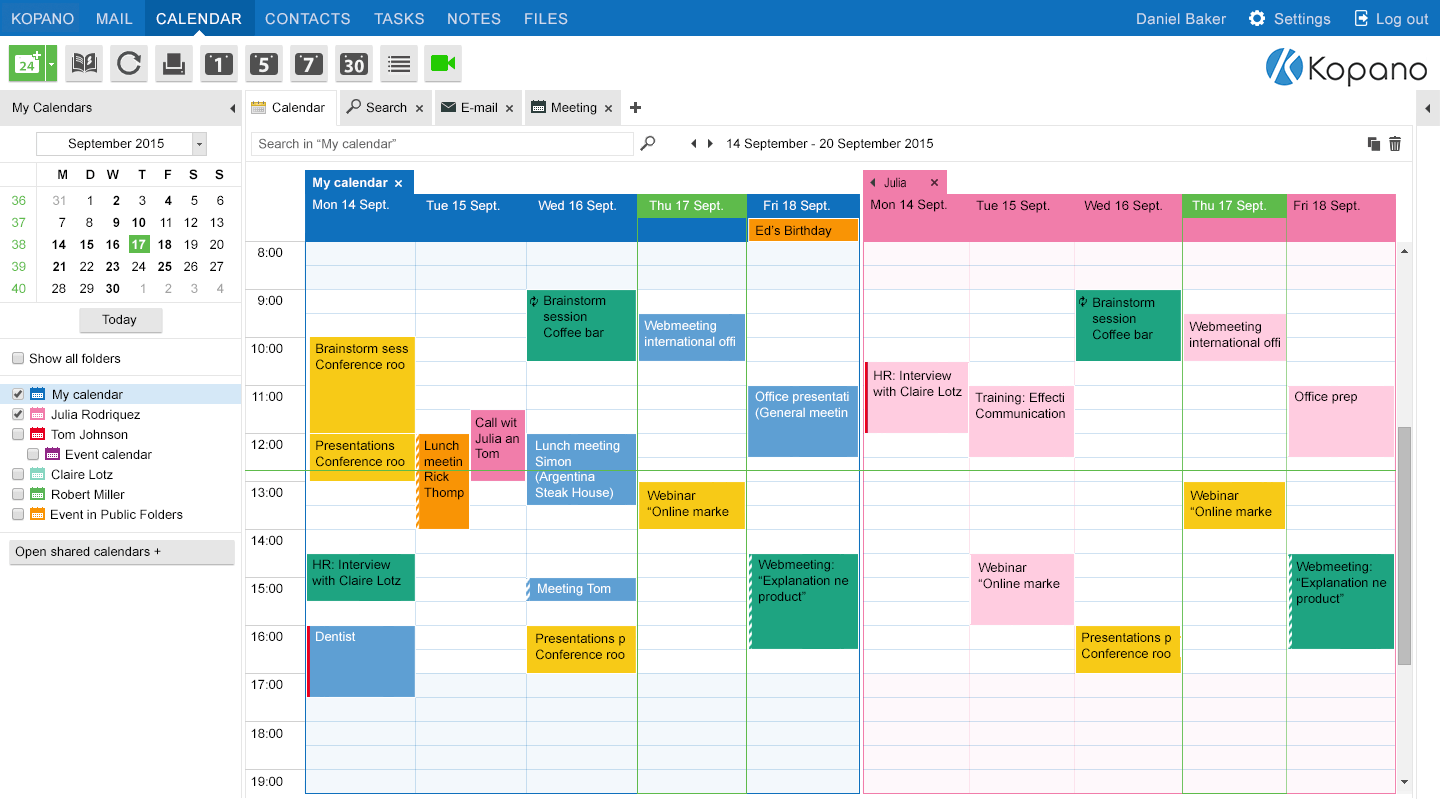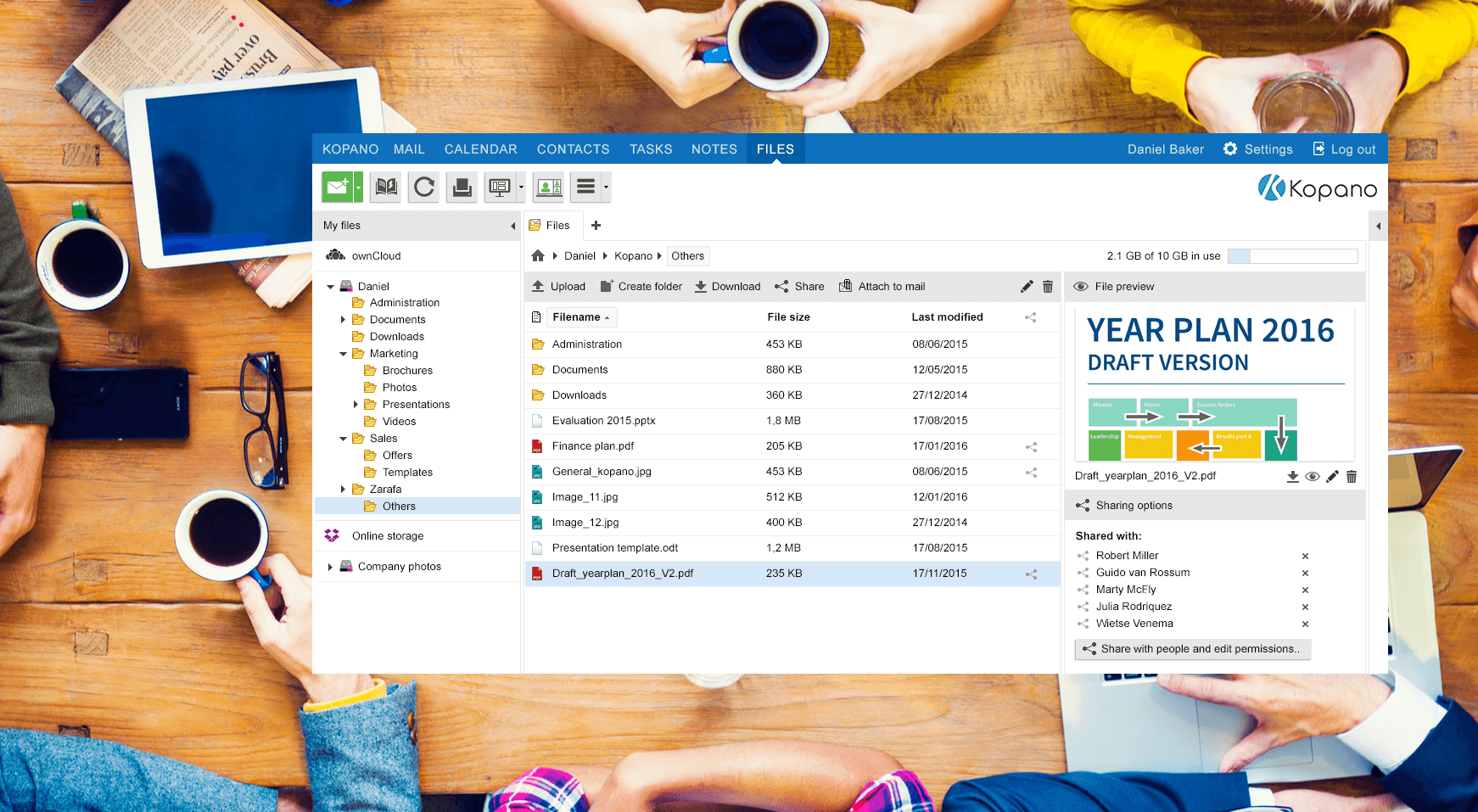 Download 30-day test license
To get a 30-day test license for this product, please complete the form below. After a short while, the license will be sent to the e-mail you specified.
Download a free one-year license
For private or commercial use
To get a one-year license for the private or commercial use of this product, please complete the form below. If you want to use the license commercially, be sure to specify the name and e-mail address of your company.
A maximum of one free license may be operated simultaneously by a legal or natural person. Pure evaluation and test installations are exempted from this rule.
Upon submission of the form, the download of your ISO file will start automatically. After a short while, the license will be sent to the e-mail you specified.
We want to inspire companies.
We would like to introduce some successful companies and their IT solutions to you here.
Try the Collax Groupware Suite right now!
To make it as easy as possible for you to test our collaboration solution, we have set up a demo server for you. No test licenses or downloads are required. Simply click on the following link and log in with the data given below. You will immediately have access to the Collax Groupware Suite user interface.
https://demo.collax.com:8001
admin
demo
Do you have any questions?
We would be happy to talk to you. Please use our contact form. We will take care of your request as soon as possible.
Contact us
Collax Central
With Collax Central you always have an overview of all Collax servers. This makes administration much easier. Thanks to active system monitoring, Collax Central points out problems at an early stage and offers an effective tool for efficient and fast administration. This is where all the information comes together. This allows problems in a large server landscape to be identified at a glance. Sporadic and regular maintenance tasks are completed quickly.
Always everything in view
The compact overview provides immediate access to all important information on hardware utilization, updates and license terms. Many more detailed information can be displayed with a single click. If maintenance work is due or a problem is detected, a further click is sufficient to perform the administration task.
Hierarchy and structure make the difference
All servers can be sorted into a freely configurable, hierarchical structure. The administrator can create his individual dashboard according to his requirements. Thus he has all information available quickly and clearly. The flexible search function as well as a multitude of filters complete the range of functions.
Collax Central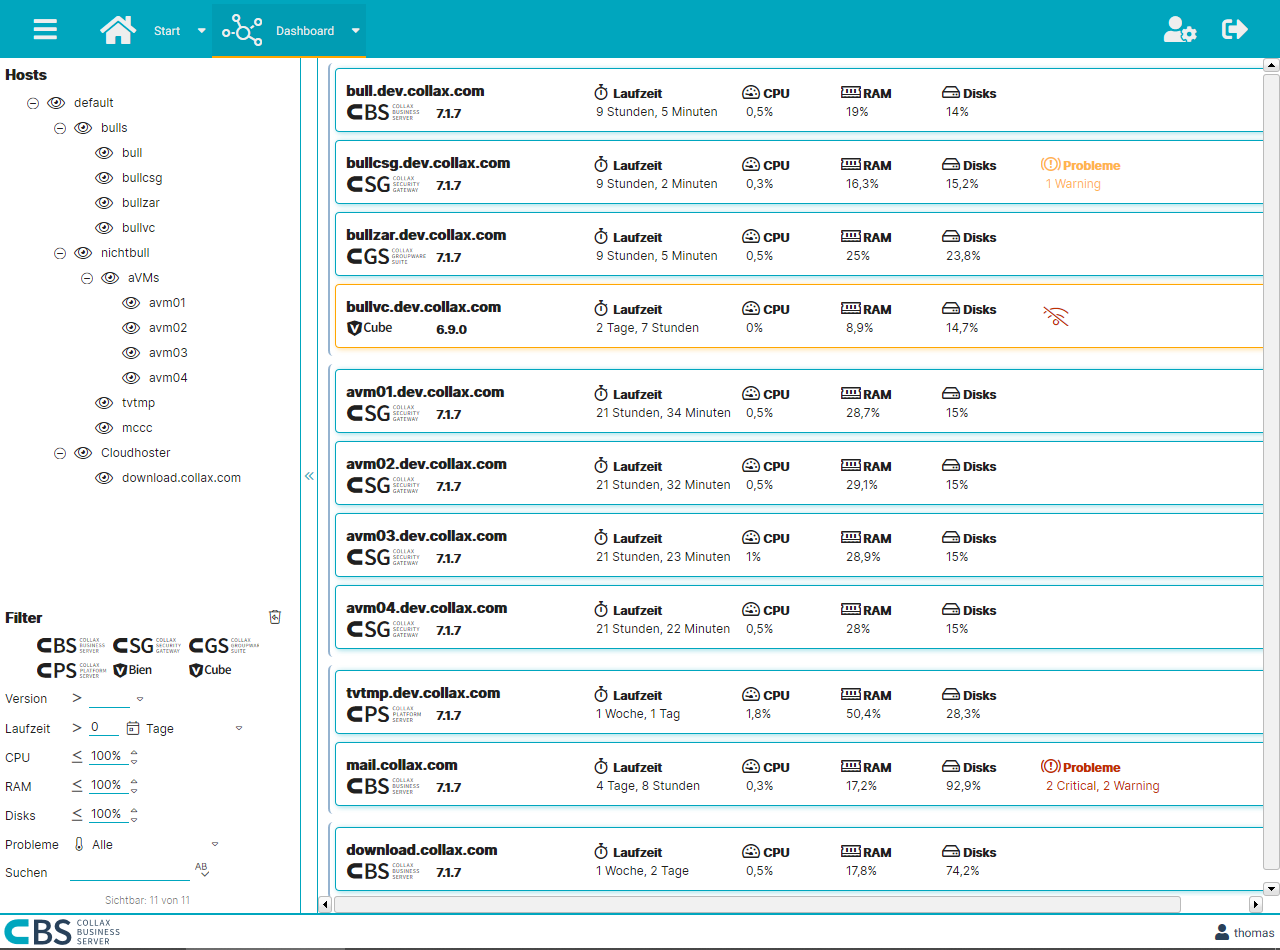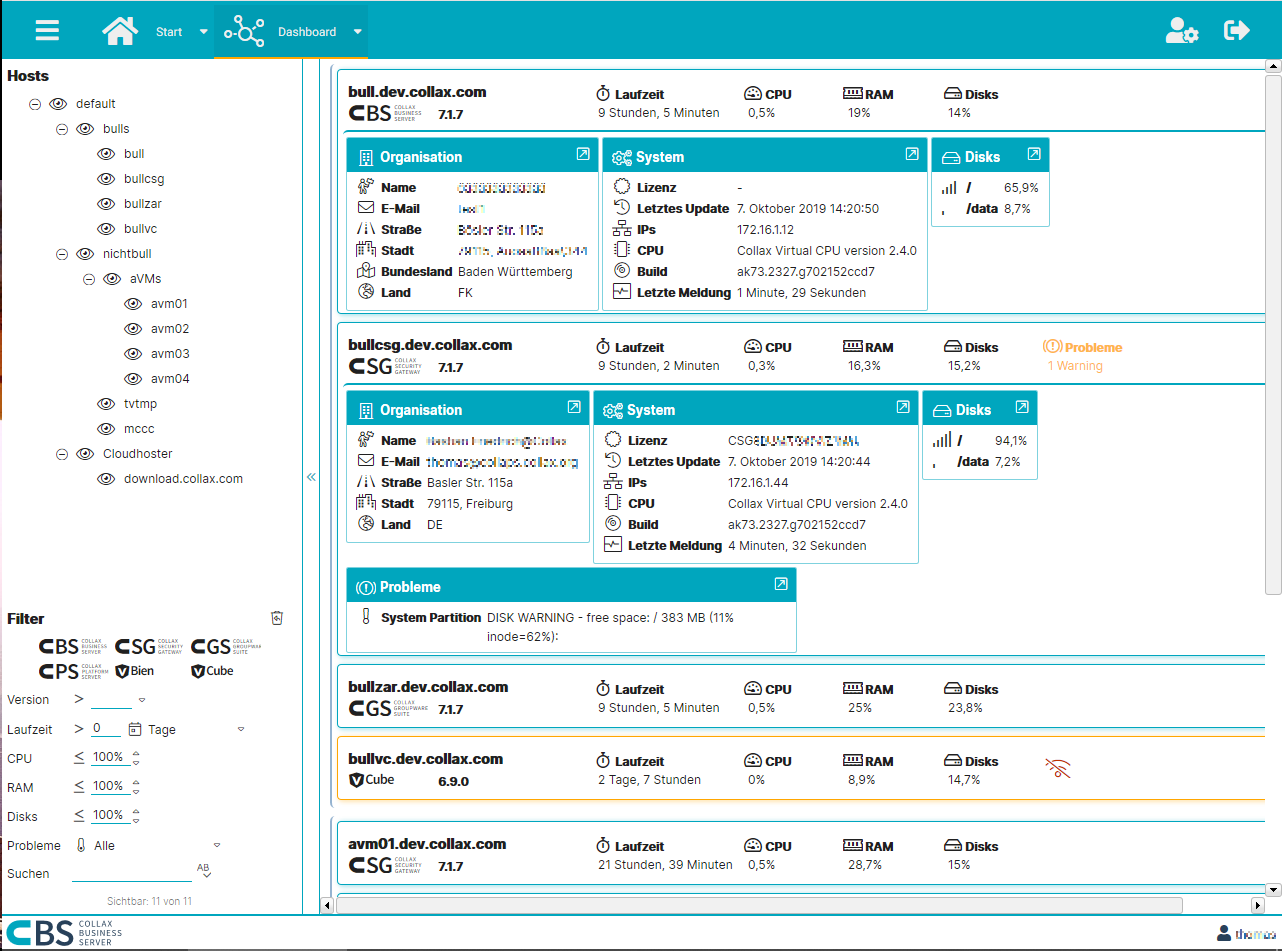 Collax Advanced Networking
Almost every company depends on a fast and functioning network connection. The module Collax Advanced Networking offers everything needed to keep the network running without restrictions, even at peak times. Important applications can be prioritized via bandwidth management. The Policy Based Routing function and Multi-WAN ensure that all data traffic is optimally distributed among the available connections. The module is rounded off by a intrusion detection and prevention system.
Bandwidth management
Bandwidth management enables applications to use the network bandwidth more efficiently. For modern communication over the Internet, such as VoIP or online meetings, it is important to manage and prioritize bandwidth intelligently.
Policy-Based Routing
A very elegant method of channeling data in a network is offered by policy-based routing. If there are multiple paths for the data to reach a destination, the path can be specified depending on the protocol. The rules can be applied to both forwarded and locally originated connections (e.g., proxy, VPN).
Multi-WAN
Multi-WAN makes it possible to bundle lines and thus establish network connections extremely cost-effectively with high bandwidths. Integrated load balancing ensures load distribution as well as maximum throughput and fail-safety.
Intrusion detection and prevention
Intrusion detection and prevention (IDS: Intrusion Detection System / IDP: Intrusion Prevention System) provides additional security. The system detects malicious attempts to gain unauthorized access. Attackers can be automatically blocked by the firewall even before they can cause any damage.
YOUR ADVANTAGES
Smooth communication even when the Internet connection is busy.

Bundling of multiple Internet connections

Structured distribution across multiple Internet connections

Intrusion prevention
Collax Avira AntiVir
Collax Avira AntiVir is a high-quality and reliable product for protection against viruses and other malware. It is based on the technology of the market-leading anti-virus company Avira.
Collax has perfectly adapted the award-winning and widely used anti-virus software to the Collax C servers. The solution is seamlessly integrated at the click of a mouse and immediately offers maximum protection against threats from the Internet. Collax Avira AntiVir is based on three different mechanisms: E-mail scanner, file scanner and web traffic scanner.
Collax offers the following variants of the proven anti-virus software:
E-mail Scanner with File Scanner
Installed on the Collax Groupware Suite, the Collax Avira AntiVir extension offers protection against unwanted e-mails and malicious content. We seamlessly integrate Avira's e-mail scanner and file scanner technology into our servers.
Web Traffic Scanner with File Scanner
In a second variant, we offer the Web Traffic Scanner together with the File Scanner as an extension for the Collax Groupware Suite. This allows you to efficiently and easily control Internet usage within your company. At the same time, the file scanner provides more security by checking data that has been manually brought into the company (e.g. via USB sticks or smartphones).
File Scanner
As a third variant, we only offer the file scanner as an extension to the Collax Groupware Suite. This ensures maximum security for all your data. The file scanner reliably identifies and eliminates infected documents.
YOUR ADVANTAGES
Daemon updates without service interruption

Administrator alert

Quarantine for unknown archive formats / file formats

Automatic deletion of infected files

Real-time scanning of e-mails (with attachments) and web traffic

Scan of the file cache

Supports all popular protocols for file sharing, email, and web

False Positive Control
Collax Virus Protection powered by Bitdefender
Collax Virus Protection is another solution product that we recommend and offer to protect against viruses. It is aimed specifically at small and medium-sized businesses. The solution uses Bitdefender's market-leading technology. Installed quickly, it provides triple protection for your business:
E-Mail Scanner
The Email Scanner powered by Bitdefender identifies, analyzes and eliminates unwanted emails with malicious content.
Web Traffic Scanner
The Web Traffic Scanner of Collax Virus Protection allows an efficient and meaningful control of Internet usage. The experience and know-how of Bitdefender combined with Collax are a benefit for the security of your company.
File Scanner
The majority of viruses enter the company manually, e.g. via infected files on USB sticks or smartphones. The infected files are then stored on a file server and can spread throughout the company. With a File Scanner you can identify and eliminate such files. Using the Bitdefender File Scanner on a Collax server allows for accurate localization and efficient scanning technology.
Collax offers all three methods either individually or as a complete package.
YOUR ADVANTAGES
Automatic Updates

Administrator alert

Quarantine for unknown archive formats / file formats

Automatic deletion of infected files

Scan for all common viruses, Trojans and other malicious software

Real-time scanning of e-mails (with attachments) and web traffic

Scan of the file cache

Supports all popular protocols for file sharing, email, and web
Collax Anti Spam powered by Bitdefender
Collax Anti Spam powered by Bitdefender combines multiple spam and phishing detection technologies to detect and block cyber threats in email traffic. Emails are captured and pass through a variety of blacklists, reputation systems and content filtering technologies to detect spam, phishing, extortion scams and malspam attacks, providing complete email protection for internal users and customers.
High detection rate independent of language and region
The spam filter of Collax Anti Spam is characterized by a high detection rate. The detection rate of the solution is not influenced by language. Collax Anti Spam powered by Bitdefender uses information that does not depend on language or regional characteristics; therefore, it provides the same detection rates for users all over the world.
High throughput, high performance
Collax Anti Spam is specifically designed to ensure high throughput without significantly impacting the performance of your systems … for more efficiency in your business.
Protects email servers and collaboration platforms
Accurate spam filtering removes more than 99.9% of unwanted messages and minimizes false positives. By using powerful anti-spam solutions, productivity losses due to spam and unnecessary technical expenses are avoided.
Not only does inbound spam create costs and risks, but outbound email traffic must also be risk-free to prevent your infrastructure from being misused to send spam and viruses. Otherwise, there is a risk that your IP and domains will be blacklisted.
IHRE VORTEILE
Protects email servers and collaboration platforms

Increased employee productivity

Better protection through cloud-based technologies

Low false positive rate

High throughput, high performance

Real-time email scanning
Collax E-Archiv
Archive for e-mail and e-invoicing
Every taxable company is instructed to archive business-relevant e-mails and e-bills (electronic invoices) in a revision-proof manner. The Collax E-Archive is a simple way to meet the requirements of the Ministry of Finance. In order to facilitate the daily work with e-mails, each employee can be given access to his or her own e-mail archive.
Fast commissioning
The Collax E-Archive can be activated quickly and easily. It archives incoming as well as outgoing emails and e-bills and forwards an unchanged copy to the mail server. This process is automatic and tamper-proof. Archiving can also be performed if the mails are forwarded to another mail server.
One archive for each user
Beyond the obligation, each employee can be granted access to his or her own e-mail archive. A powerful search function makes it possible to conduct extensive searches in old correspondence. Each user can restore e-mails himself. In addition, the archiving ensures a lasting relief of the mail server.
Compliance with legal requirements
The e-mails are indexed before being forwarded to the mail server. This means that the e-mails can be found more quickly later. They also receive a signature so that authenticity and integrity can be checked when they are retrieved. Images for read-only media such as CD, DVD or Blu-ray Disc are automatically generated for long-term, revision-proof storage.
Prevent misuse
If it becomes necessary to search the entire archive, there is an auditor who can access all emails and e-bills. In order to prevent misuse, it is necessary for a second user (e.g. a works council) to confirm full access with a second password according to the four-eyes principle. An e-mail notification to a stored address is triggered. Every search carried out by the auditor is logged by the system.
Legal situation
The ministry of finance has concretized with the principles to the orderly guidance and storage of books, records and documents in electronic form as well as to the access to data (GoBD) how with tax-relevant dates, that were not processed in paper form, must be proceeded. The guideline prescribes a long-term, unchangeable and safe storage of the messages. A conventional archiving as expression excludes it explicitly.
YOUR ADVANTAGES
Audit-proof storage of e-mails and e-bills

Meets legal requirements

Four-eyes principle

Verifiable data integrity (signing of archived e-mails)

Tamper-proof archive

Open, platform-independent archive format

Archive for any e-mail server

Simple and fast procedure
Collax Let's Encrypt
Let's Encrypt is a certificate authority that offers free X.509 certificates for SSL encryption.
The usual manual procedures are replaced by an automated process simplified. The CA of the Let's-Encrypt certificates is available for all common Web browsers as a pre-installed, trusted root certificate authority deposited. Thus, browsers do not report warnings or errors for web pages that Encrypt HTTPS with a Let's-Encrypt certificate Let's Encrypt Certificates are primarily intended for the encryption of web pages. However, you can use can also be used for other purposes.
The goal of Let's Encrypt is to enable the setup of an HTTPS server which automatically generates a trusted browser certificate without receives human intervention. This is achieved by executing a Certificate Management Agent on the Web server.
For more information, see also: https://letsencrypt.org/de/
IHRE VORTEILE
Validierung und Signierung von X.509-Zertifikaten

Automatische Bereitstellung eines Browserzertifikats

Zuverlässige Verschlüsselung von Web-Seiten

Sichere Domain-Validierung

TLS-Verschlüsselung mit Let's-Encrypt-Zertifikaten