Collax V-Bien
All-round worry-free package for virtualization and high availability
All-round worry-free package for virtualization and high availability
The Collax V-Bien is a complete package for virtualization and high availability. In addition to software and hardware, it also includes the patented Collax Fencing Device and support.
Especially for small companies and freelancers
When developing Collax V-Bien, we were guided by the requirements of small companies, chain stores, joint practices and freelancers. Collax V-Bien is optimally scalable and tailored for these environments with a need for virtualization and high availability. With a processor socket and a maximum of 64 GB RAM per node, Collax V-Bien offers the same range of functions as Collax V-Bien Office or Collax V-Bien Pro. Your data is always available and secure.
No more data loss. Never again IT failure
The patented Collax Fencing Device ensures data integrity in any operating state and reliably protects against split brain and deathmatch. Collax Proactive HA intercepts all cases of hardware failure and evacuates the affected node.
Special functions
Security and High Availability
Collax V-Bien consists of two identical units. A failure is thus intercepted and all company servers remain in operation. Thanks to the patented Collax Fencing Device, the availability of the servers can be maintained even in the event of a sudden failure of one unit. If, on the other hand, a failure is announced, Proactive HA becomes active and evacuates the node as a precaution.
Virtual networking
Collax V-Bien offers the possibility to create several virtual networks. Additional built-in network interfaces are supported via virtual switches. Network infrastructures can thus be replicated virtually as required.
Complete package
Collax V-Bien combines all the necessary components in a single solution. This saves costs and simplifies maintenance. There is a common contact person for questions or problems.
Easy administration
Collax V-Bien is administered like a single server. Since the user interface can be operated via a browser, all settings can be made remotely. The servers and their backups can also be managed remotely and status information and statistics can be retrieved.
Efficient use of existing resources
In regular operation, to distribute the load of the servers, both units are used by Collax V-Bien. Only in the event of an error do the running servers have to move closer together.
Virtualization as a basis
Collax V-Bien uses modern virtualization technology to achieve the high availability of any company server. This allows you to additionally benefit from all the advantages of virtualization.
In practice
Once the two Collax V-Bien units have been set up, existing servers can simply be moved over the network. After that, they are highly available without further adaptation. If Collax V-Bien detects a defect, it informs the person responsible. At the same time, he ensures that this unit is no longer used. Once the defect has been rectified, Collax V-Bien returns to redundant operation.
Data sheet: Collax V-Bien 1031 kB Data sheet: Collax Fencing Device 322 kB
Return of Investment - Calculator
Here you can calculate the return on your investment.
Test Collax V-Bien now!
Experience Collax V-Bien in action today! We have set up a demo server for you to test our comprehensive virtualisation and high availability solution without any effort. No trial licenses or extensive downloads are required. Simply click on the link below and use the login information provided to gain immediate access to the Collax V-Bien user interface. See for yourself the powerful features and ease of use of our solution!
https://vbiendemo.collax.com:8001
admin
demo
Do you have any questions?
We would be happy to talk to you. Please use our contact form. We will take care of your request as soon as possible.
Contact us
Collax Central
With Collax Central you always have an overview of all Collax servers. This makes administration much easier. Thanks to active system monitoring, Collax Central points out problems at an early stage and offers an effective tool for efficient and fast administration. This is where all the information comes together. This allows problems in a large server landscape to be identified at a glance. Sporadic and regular maintenance tasks are completed quickly.
Always everything in view
The compact overview provides immediate access to all important information on hardware utilization, updates and license terms. Many more detailed information can be displayed with a single click. If maintenance work is due or a problem is detected, a further click is sufficient to perform the administration task.
Hierarchy and structure make the difference
All servers can be sorted into a freely configurable, hierarchical structure. The administrator can create his individual dashboard according to his requirements. Thus he has all information available quickly and clearly. The flexible search function as well as a multitude of filters complete the range of functions.
Collax Central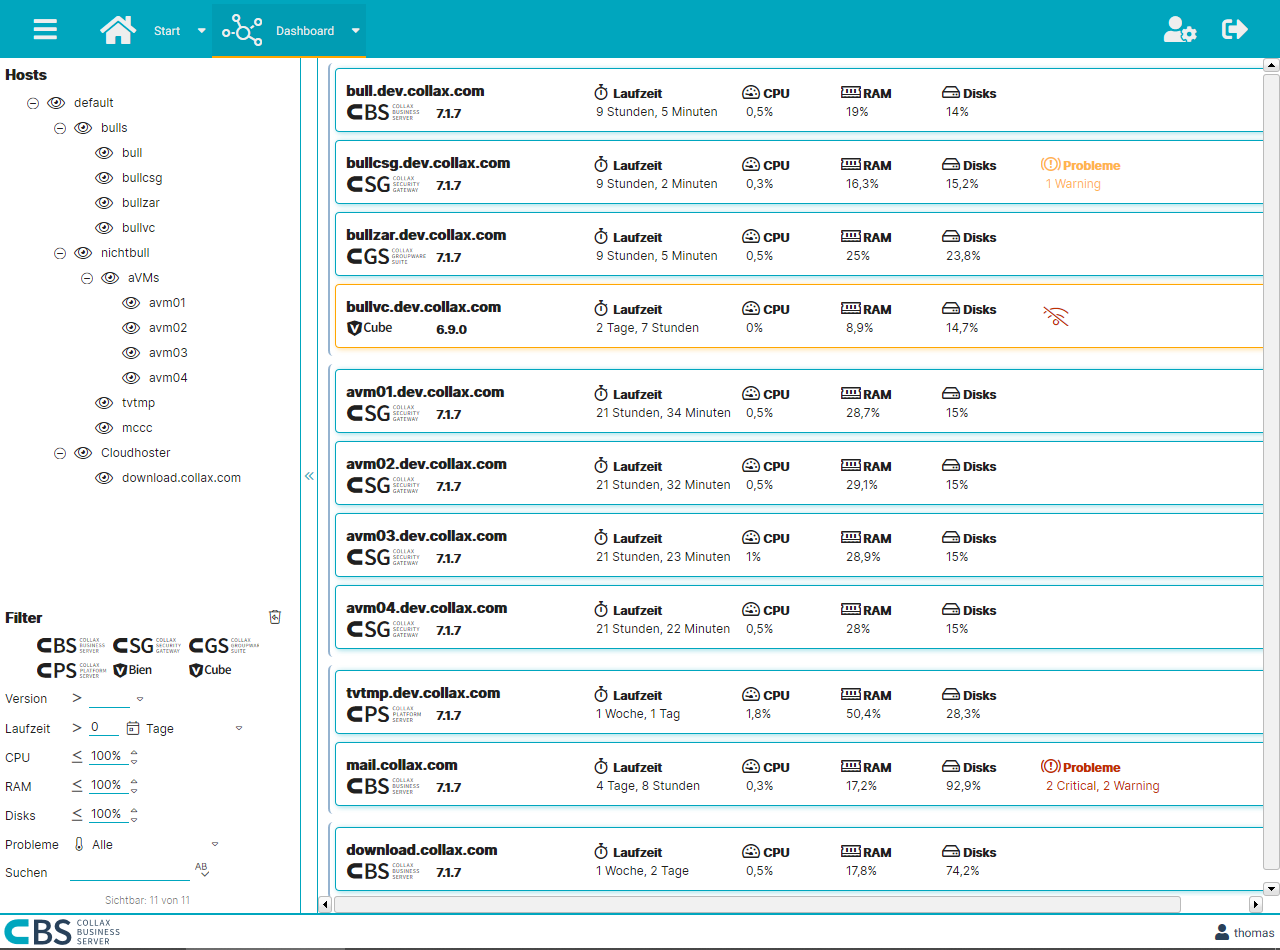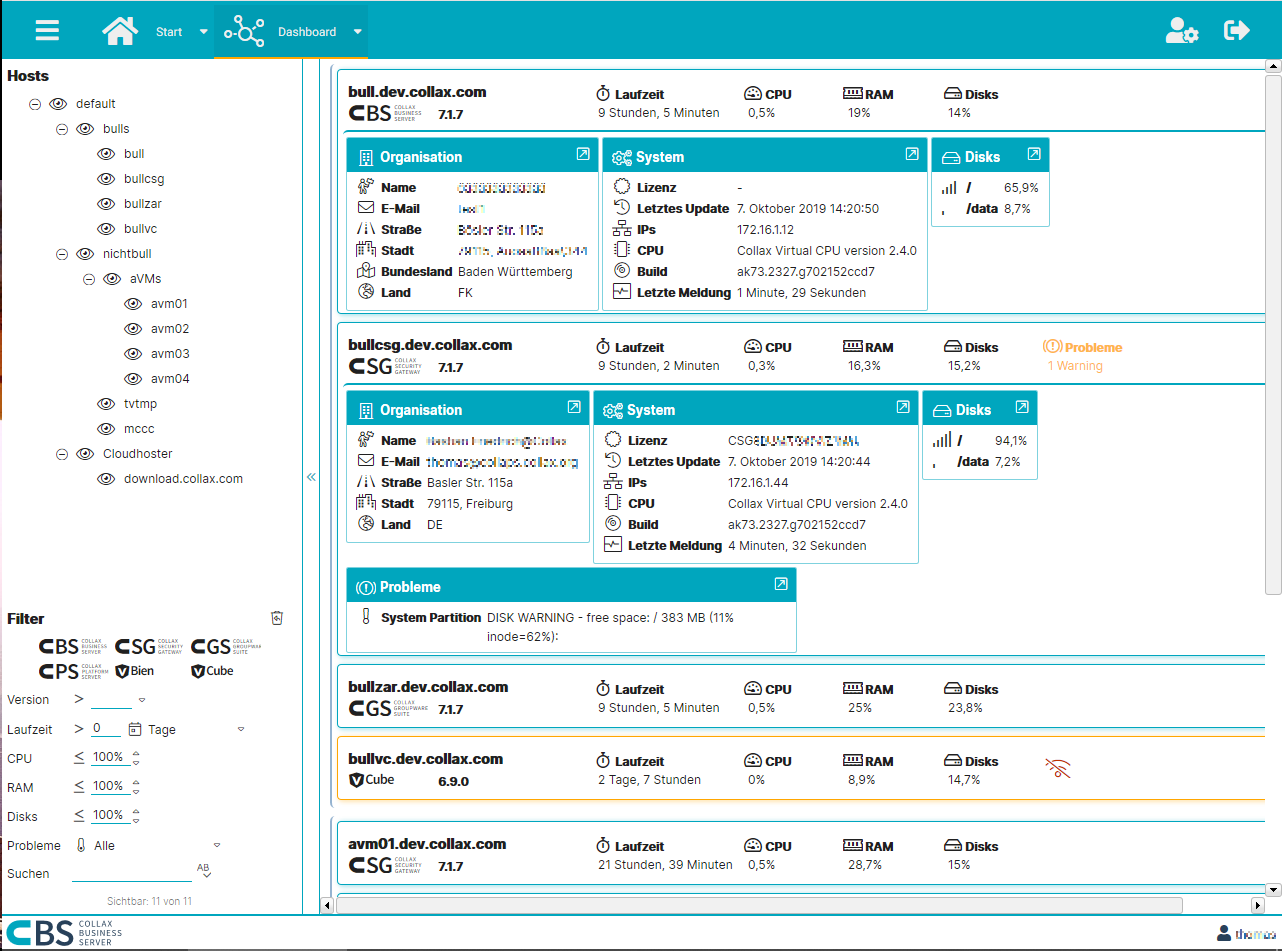 Collax V-Transfer
The Collax V-Transfer module gives administrators more flexibility in handling VMs and increases scalability when Collax V-Bien, Collax V-Cube and Collax V-Cube+ interact. This is because Collax Transfer provides functions for transferring VMs between the products as required.
Simple and safe operation
With just a few mouse clicks, it is possible to transfer a VM directly between two Collax V-Servers or to change the storage type and other properties before the transfer. Before the transfer starts, a detailed check is performed to determine whether the VM can be operated on the opposite side. Actions that affect the smooth transfer and errors during the transfer are prevented respectively intercepted.
Optimal interaction: Collax V-Transfer and Collax Central
Together with Collax Central, the operation of Collax virtualization solutions is significantly enhanced. A transfer can be initiated conveniently via the dashboard.
YOUR ADVANTAGES
Higher scalability

More flexibility

VM transfer between all Collax V products

Convenient operation via Collax Central
Acronis Cyber Protect - Backup Advanced for Collax Virtualization
Based on Acronis technology, the solution uses efficient disk imaging to provide the industry's fastest backups and most flexible and reliable recovery options.
Backup can be so fast and easy. Individual files, applications or entire virtual machines can be restored in no time at all - all from one backup. Acronis Cyber Protect - Backup Advanced for Collax Virtualization can restore your data to its original location or to a completely new location.
Functions
Restoring a Server as a Virtual Machine (VM)

Backup directly to tape

Server migration

Disaster Recovery

Efficient incremental backups

Central administration and reporting

Deduplication
YOUR ADVANTAGES
The world's leading backup solution

Multiple awards

Seamless integration into all Collax V-Servers

Simple administration - also available remotely

Transparent cost structure - One license per node (regardless of the number of virtual machines)

Single Point of Contact: Support about Collax