Collax and CompuGroup Medical enter into strategic partnership
10.09.2019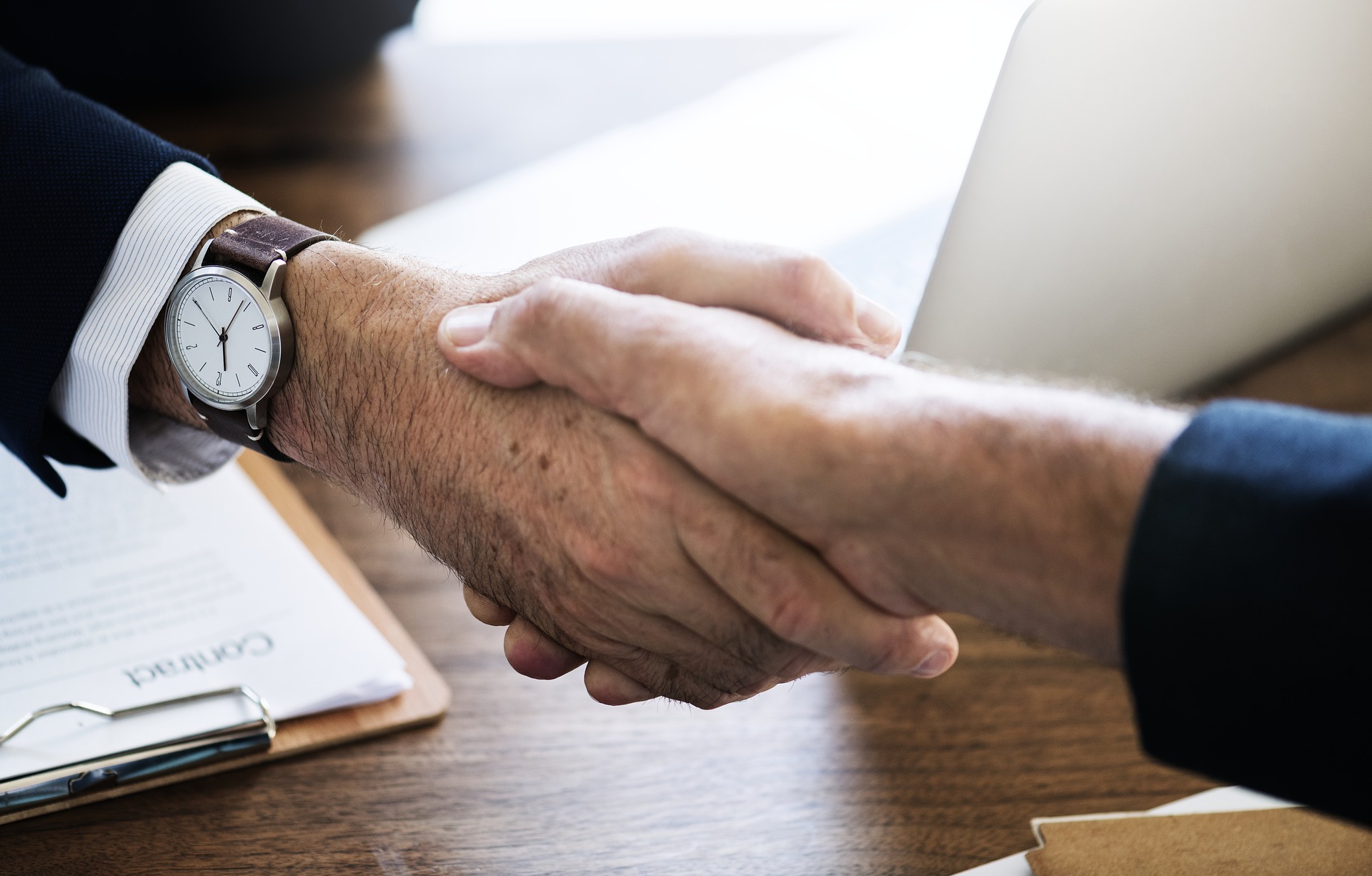 Highly available, secure and virtualized IT infrastructures for medical and dental practices
Collax GmbH, a specialist for IT infrastructure solutions, is now working closely with CompuGroup Medical, one of the world's leading eHealth companies. As part of the partnership, CompuGroup Medical offers doctors' and dentists' practices the CGM PROFESSIONAL LINE HA solution. This solution ensures that practice and patient data is available reliably and with high availability at all times.
Garching, September 10, 2019 - With CompuGroup Medical Deutschland AG (CGM), Collax GmbH, a specialist for infrastructure solutions, has gained a strategic partner that is one of the world's leading eHealth companies and offers IT solutions for all medical and organizational activities in medical practices, pharmacies, laboratories and hospitals.
Overcoming challenges in everyday practice In the daily practice of doctors and dentists, the availability of the IT infrastructure is becoming increasingly important. Failures quickly bring the practice to a standstill and can result in a considerable loss of time and money. At the same time, delays in procedures and waiting times have a negative effect on patient satisfaction and employee motivation. The aim of this strategic partnership is to offer doctors' and dentists' practices the possibility of reliably securing practice and patient data at any time and making them available with high availability.
"We are very excited about our forward-looking partnership with CompuGroup Medical. Reliable IT systems have become indispensable in patient care. But not only security and confidentiality play a major role, but also the storage and processing of data in doctors' and dentists' practices - and thus a trustworthy IT infrastructure that guarantees the integrity of patient data and is reliably available at all times," explains Falk Birkner, Managing Director of Collax GmbH. "Together with CompuGroup Medical, we can provide doctors' and dentists' surgeries with a solution that meets all these requirements and has already proven itself in comprehensive tests and in real-life practice environments".
The CGM PROFESSIONAL LINE HA solution The CGM PROFESSIONAL LINE High Availability IT Solution (HA) is tailor-made for small to medium-sized medical and dental practices and IT environments with up to 30 IT workstations. This solution ensures that doctors and dentists have continuous access to their practice and patient data at all times - even in the event of a technical malfunction. CompuGroup Medical's new IT high-availability solution combines the servers of its own hardware line CGM PROFESSIONAL LINE with the Collax V-Bien solution from IT infrastructure specialist Collax GmbH. The hardware platform is based on the bluechip SERVERline from bluechip Computer AG and represents the perfect basis for Collax V-Bien. Both partners - both Collax and bluechip - stand for "Professional and secure IT made in Germany". The result is an intelligent server virtualization and mirroring, which detects technical defects and can thus prevent imminent downtimes of the practice IT. A permanent, real-time synchronization of all data also ensures the integrity of the practice data on two identical server systems at all times. If one of the servers fails, this virtualization allows work to continue without restriction or delay. "The CGM PROFESSIONAL LINE HA was specially developed to meet the requirements of doctors' and dentists' practices and guarantees a high level of IT reliability," adds Wolfgang Stauch, General Manager of CGM subsidiary CGM IT Solutions und Services GmbH. "By combining our CGM PROFESSIONAL hardware line with Collax software, we can now offer doctors' and dentists' surgeries a highly professional security solution at a price that can also be implemented with the operating budget of a small to medium-sized practice. Access to professional high-availability and virtualization solutions is no longer reserved for large enterprises."
Distribution and availability Doctors and dentists can purchase the CGM PROFESSIONAL LINE HA from any authorized CGM distributor. These partners include Gotthardt Informationssysteme GmbH, K-LINE PRAXISLÖSUNGEN GmbH, CoSi medical IT GmbH and TURBOMED Vertriebs- und Service GmbH.
Weiterführende Informationen For more information on CGM PROFESSIONAL LINE (HA) and Collax V-Bien, the virtualization and high availability solution for small and medium organizations, visit www.cgm.com and /en/articles/vbien-for-med/. The press release and images can be downloaded here.
Collax – Flexible IT Collax offers solutions for high availability and virtualization as well as for network infrastructures, communication and security that are precisely tailored to the requirements of small and medium-sized enterprises (SMEs) and freelancers. The efficient IT platforms are flexible, adaptable, stable and secure and comprise the two product lines Collax V-Server and Collax C-Server. The Collax V servers offer virtualization and high availability specially developed for the requirements of SMEs and freelancers. They are characterized by simple administration, maximum availability and a fair price model. Together, the Collax C servers emulate the entire IT infrastructure. Quickly installed, flexibly applicable and at a fair price, the solutions cover three areas: Infrastructure, security and collaboration. The Munich-based company was founded in 2005. Today, Collax has around 30,000 installations and 6,000 customers. The solution provider sells its products indirectly through around 600 partners: distributors, system houses and VARs as well as ISVs and OEMs. Further information can be found at www.collax.com.
CompuGroup Medical Germany AG CompuGroup Medical Deutschland AG is a subsidiary of CompuGroup Medical SE, one of the world's leading eHealth companies. Almost every second physician in Germany already works daily with one of the market-leading physician and dentist information systems such as CGM ALBIS, CGM M1 PRO, DATA VITAL, CGM MEDISTAR, CGM TURBOMED, CHREMASOFT and CGM Z1. CGM PRIVATE is available especially for private physicians. CGM Deutschland AG also offers perfect solutions for efficient and secure eHealth management for MVZs, social facilities, laboratories as well as specialist and rehabilitation clinics. With the WINAPO® system and other solutions, LAUER-FISCHER provides pharmacies with modern, networked software that strengthens the pharmacist's advisory role, improves patient safety and at the same time helps to save time and money. With CGM LIFE, a health platform is made available that enables a new type of inter-sectoral communication between service provider and patient. CGM LIFE also offers health services to maintain one's own health, to become healthy and to manage one's health. In addition, CGM offers a complete product chain of gematik-approved components and services for the telematics infrastructure (TI) - from connectors and VPN access services to eHealth card terminals. The products and services of CompuGroup Medical Deutschland AG stand for intelligent and comprehensive communication and networking solutions and connect doctors of all disciplines, hospitals, pharmacies, social institutions and cost units. TELEMED, as the market-leading KVSafeNet provider, provides participants in the healthcare sector with a data protection-compliant platform for online communication, in future also as part of the telematics infrastructure. With instruments for efficient contract and supply control and software solutions for the optimisation of administrative processes, new paths to considerable savings potential are also opening up. The common feature of all products in CompuGroup Medical Deutschland AG's portfolio is cross-sector, secure and data protection-compliant communication. With our technologies, it is already possible to network the participants in the German health care system today.
CompuGroup Medical SE CompuGroup Medical is one of the world's leading eHealth companies and generated annual revenues of approximately 717 million euros in 2018. Its software products to support all medical and organizational activities in medical practices, pharmacies, laboratories and hospitals, its information services for all parties involved in healthcare and its web-based personal health records serve a safer and more efficient healthcare system. CompuGroup Medical's services are based on a unique customer base of over 1 million healthcare professionals, including physicians, dentists, pharmacies and other healthcare professionals in outpatient and inpatient settings. With its own locations in 19 countries and products in 56 countries worldwide, CompuGroup Medical is the eHealth company with one of the largest reach among service providers. Approximately 5,000 highly qualified employees stand for sustainable solutions for constantly growing requirements in the healthcare sector.